Forward Migration Program 2021- New ERCES/BDA Webinar Available
Read More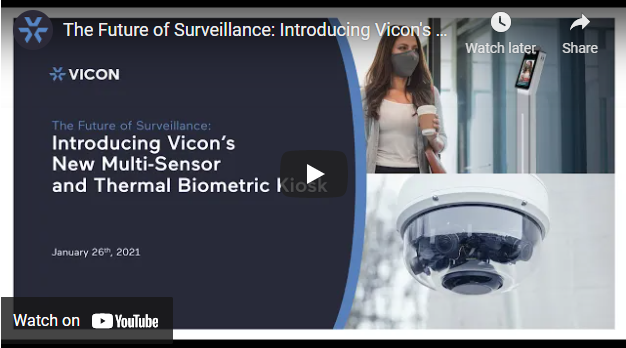 Join us for a Webinar!
Following the announcement of Vicon's release of their multi-sensor and thermal kiosk tablet, Vicon released their webinar announcing both products on their website.
During this webinar, attendees were provided with a high-level overview of two greatly anticipated product launches: the release of the V1000 360° Multi-Sensor Series and the Thermal Biometric Kiosk. Both solutions are designed to proactively detect critical events and safeguard a number of infrastructures.
Vicon's V1000 360° Multi-Sensor is a versatile camera that eliminates blind spots via four independently adjustable sensors to monitor extremely vast areas. The webinar reviews how they've strategically engineered this series for easy integration, unlimited field of views and more.
It also covers their advanced Thermal Biometric Kiosk and how it can increase the safety of facilities. As the wide release of the COVID-19 vaccine is still pending, businesses can proactively protect their facilities with contactless thermal measurement readings. They also review key differences between the Thermal Biometric Kiosk and our Thermal Body Temperature Measurement unit to understand which option best meets your demands.
To watch the webinar in full, click here. To learn more about this series, email salessupport@abscosolutions.com, sales@vicon-security.com or visit www.vicon-security.com.
Read More