The Avigilon Cloud Services (ACS) platform enables a modern cloud-connected user experience to view live and recorded video, as well as monitor and manage the health of your systems. Connecting your Avigilon Control Center™ (ACC) sites to ACS is free to do and instantly unlocks remote access to your systems from anywhere.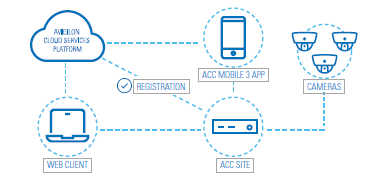 Anywhere, Anytime Access
ACS provides secure remote access to view live and recorded video from our no-install browser-agnostic client with the ability to view bookmarks, manage PTZ controls, and export videos to a local drive. Alternatively, use the ACC Mobile 3 app to view live and recorded videos and to receive and view push notifications of ACC analytic alarms. You can be confident that remote access is secure with support for firewall traversal to eliminate complex firewall re-configurations.
Improve Availability
The ability to monitor the health status of your servers and cameras helps you to efficiently detect, verify and respond to events at your various sites. Advanced System Health allows you to proactively prioritize maintenance activities across all your sites and remotely take action on those events that are most urgent.
Easy Site Management
Whether you have a single site or multiple sites, ACS makes it easy to manage your sites with convenient, centralized access to your security system. Provisioning and managing system access to your users is easy by allowing people to use their corporate login credentials across ACS and ACC and the ACC Mobile 3 app.
You're Always in Control
There is no mysterious oversight with ACS. Your ACC Server is always in control of what happens. With it, you have full control and transparency over what users have access to and what they can do on your system. These users are logged in just like any other system user, so at any time, you can audit and view user activity by running site logs. With this hybrid solution model, ACS also offers maximum versatility so you can take advantage of powerful on-premise systems and pervasive cloud resources simultaneously.
If you have further questions, Avigilon ACS FAQs are available, or reach out to your Absco Solutions Account Executive or contact salessupport@abscosolutions.com.