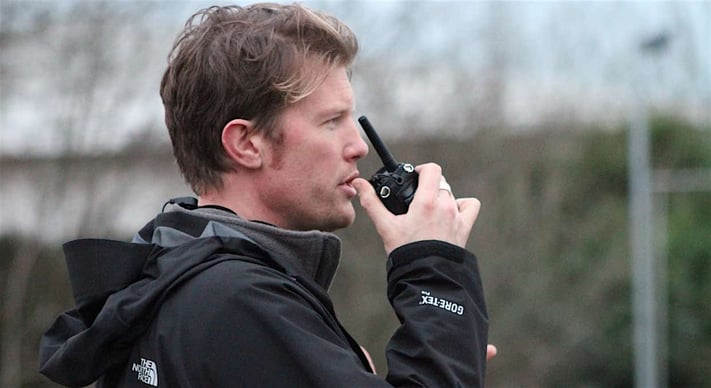 Radio communications are a vital part of security work and team communication and are fundamental tools for staff and security. It enables instant communication between security teams — from doormen, surveillance officers, patrol guards, first responders, the military, and even educators, two-way radio communication is critical to their operations.
What is two-way radio?
Two-way radio is a communication technology that allows individuals to communicate with each other using radio waves. Each user is given a radio unit that can send and receive audio and data which are transmitted through radio waves. The units work by converting audio to radio waves that are then transmitted through the air. These radio waves are then received by other radios which convert the signal back into audio.

The radio wave can be sent as an analog signal or a digital signal. With analog radio, only audio can be sent. With digital radio, other types of data can be sent over the radio waves, including text messages and status updates.
Some new radio technology, like the MOTOTRBO Ion from Motorola Solutions, even include an open application ecosystem which allows for connection to Android devices like mobile phones. Aside from two-way radio capabilities, users can view photos, stream videos, and even download and use mobile applications on the Android platform.



Benefits of two-way radio
Communication technology is always evolving, but two-way radio communication has remained a constant tool for decades. While innovations in two-way radios have been made, their primary benefits remain the same:

Instant Communication: It provides real-time communication for individuals or groups across the entire team, from the control room to staff in the front line and first responders.


Wide Area Coverage: Depending on the need, infrastructure like repeaters, controllers, and gateways allow for a wider area of coverage – even in places where mobile phone coverage is nonexistent.


Highly Portable and Easy to Use: Its push-to-talk functionality makes it a simple but effective tool for communication, especially in situations where every second counts. Additionally, two-way radios are engineered to be durable and capable of working in tough conditions.



Things to consider for a two-way radio solution for your business
Coverage


Radio systems can be as simple as two radios connecting directly to each other or as complex as an encrypted network that covers an entire country. With two-way radio systems, the area of coverage is only limited by the amount of equipment you can afford to install.



Infrastructure such as repeaters can extend signals over a large area such as multi-building complexes.



Radio Licensing


Depending on what type of system you require based on your needs, you might need to purchase licensed equipment.

If you require a wide area of coverage in built-up areas such as city centers, encrypted communications, or if multiple teams would need to communicate separately using the radio system, the system will need to operate on two-way radio frequencies that must be licensed.

License-free frequencies are not regulated, so the system is susceptible to interference from other users.

The Federal Communications Commission (FCC) is responsible for managing and licensing the electromagnetic spectrum for commercial and non-commercial users, including public safety. Licensing policies also vary from state, county, and local governments.



Interoperability




International standards for two-way radios allow equipment developed by different manufacturers to operate together on the same network.



The two commonly used standards are Digital Mobile Radio (DMR) and Terrestrial Trunked Radio (TETRA). DMR is targeted for commercial uses while TETRA is used for public safety. DMR has 6 mandatory interoperability features, while TETRA requires 49 features to be available to all equipment from different manufacturers.

If you already have an existing radio network, it's important to check what features your radio system is already using and find out if any are unique to your current equipment before extending or upgrading your system.


Absco Solutions uses best-in-class radio equipment and technology that aligns with the needs of the diverse markets we serve. We partner with the leading innovators in the industry, including Motorola Solutions, to design, install, and maintain two-way radio communication systems for our clients.
Absco Solutions can help you find the appropriate radio communication solution that is right for your business while helping you through the licensing process for your region.
Reach out to executivesupport@abscosolutions.com for a consultation on your current life-safety and security master plan with a member of our executive team. You can also contact us at salessupport@abscosolutions.com or 1-800-705-1857 for any feedback, questions, or service needs.