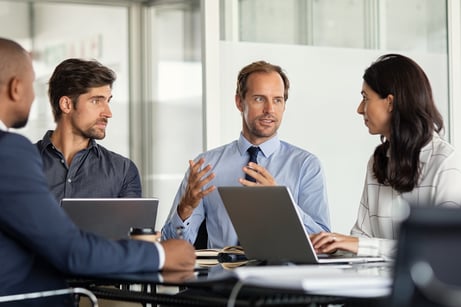 The start of a new year is a good time to take stock and evaluate the performance and efficiency of your safety and security systems throughout the previous year. Reviewing details of the progress, achievements, challenges, and pitfalls that your systems encountered gives you the information you need to plan for the year ahead, address any pressing concerns, and mitigate any emerging threats and vulnerabilities.
A security master plan is a tool that will help you perform this – easing the burden of managing security operations with a well-defined vision and a plan of action.
What is a security master plan?

A security master plan is a comprehensive document that outlines the organization's safety and security strategy for policies and procedures, equipment, and personnel. It is an integral part of security operations that helps you identify, prioritize, and budget for the necessary safety and security measures that will keep your organization protected.

A good security master plan includes the long-term strategic direction of safety and security operations, including multi-year implementation, preventive maintenance, and replacement plans. It includes budgets and milestones that will guide your organization over time.

The goal is to come up with a long-term strategy for your security operations with sequential planning. It requires the involvement of various stakeholders such as the executive management team, business unit heads, vendors and service providers, and authorities and regulators.

Having a master plan helps to avoid "patchwork" security systems and instead builds on a system with clearly defined objectives, aligned with the organization's overall business goals. Working with a master plan in place helps your organization achieve operational efficiency and provides a better return on investment, compared to just addressing the current issues in the short term.

Steps to conduct a security master plan:
Here are the steps to follow to build a successful master plan for security and safety.

1. Start with a risk assessment.
It is important to begin with a snapshot of the existing security conditions, including existing and emerging risks, threats, and vulnerabilities.

An assessment provides you with a blueprint of risks that exists in your facilities. It gives you vital information about how critical each issue is and how likely they are to happen. Knowing where to begin and what to prioritize allows you to maximize your resources and budget.

This assessment should be done by security and safety professionals who have extensive knowledge and experience in all aspects of your existing systems, including the technology, as well as knowledge of code and regulations for compliance. This could be a third-party security consultant like Absco Solutions, or an internal professional that already works for your organization.
2. Develop strategies for improvement.
Based on the results of the risk assessment, plans for improvement should be established with the mitigation standards to be applied. These strategies should cover people (staffing), processes (policies and procedures), and technology (equipment, including replacements, upgrades, and technology migration).

Aside from addressing both the current and emerging threats, these strategies should also be aligned with the organization's goals – it should reflect where the organization is now and where it is going. The plan should include provisions that anticipate any future growth or expansion that the organization is expecting to happen in the future.

It is important to consult with other stakeholders within the organization, including stakeholders for budgetary and system support concerns. The steps for improvement should be planned over budget cycles as needed to ensure the feasibility of goals and timelines.

It is also critical to have supportive leadership and other enablers within the organization that will implement the strategies as planned. As one author put it, "the finest safety and security program in creation does nobody any good if it stays on the wish list."

Having a security master plan provides a solid business case for investing in safety and security, helping convince upper management and other decision makers of a positive return on the investment through the efficiencies and high level of safety and protection it can bring to your organization – safeguarding people and properties, and potentially saving lives.

3. Implementation
A master plan is futile without implementation.

The master plan's progress should be tracked over time. Create milestones and a set of key performance indicators against which to measure its progress and performance and keep stakeholders abreast of the process and any milestones reached.

Stakeholders within the organization must be involved, including staff members , to inform them of any changes that directly affect them – especially with any changes to policies and procedure. Engagement and communication are key to driving change.
Because there is always the risk of uncertainty when it comes to planning, flexibility, and strategic adaptability is needed to quickly refine or rework the plan as needed to fit any unexpected changes.
It is important to partner with trusted security experts to ensure the success of your safety and security projects. Absco Solutions works hand-in-hand with our clients to create a custom security plan for their facilities based on their security requirements. We offer services for the strategic master planning of safety and security systems – from design, implementation, monitoring, and the continuous maintenance and improvement of fire life-safety systems, emergency communication, access control, video surveillance, and more.

Please feel free to reach out to executivesupport@abscosolutions.com for a consultation on your current life-safety and security master plan with a member of our executive team. You can also contact us at salessupport@abscosolutions.com or 1-800-705-1857 for any feedback, questions, or service needs.